Sometimes revenge just isn't enough... GRAY JUSTICE by @Jambalian


Cover links to Amazon


Gray Justice
Tom Gray #1
W
hen a son is killed by a career criminal who spends just a few months in jail for his crime, the father can either accept the decision of the court, or make his voice heard: When it happens to Tom Gray he chooses the latter and takes retribution to a whole new level.
Praise for Gray Justice
When a writer puts together a technothriller (i.e. a thriller with a strong technical thread holding much of the storyline together), he or she takes on a certain obligation: whether they know the technical specs or not, they need to deliver on the authenticity. "Gray Justice" delivers. Alan McDermott weaves us an intricate tale of military preparedness with devilish and cunning accuracy. Still, he does not fall into the trap of getting TOO technical--McDermott's prose is easy to understand while still delivering the thriller punch!

The word "heart" applies here as well--the author puts together a current, relevant storyline about a hero who cares; a protagonist who is willing to risk everything he is for the sake of his friends, his family, and his country. Tom Gray is a hero you will believe in!


---

When I normally read a thriller, more or less at the middle of the book I start suspecting what the ending is going to be. In this case it was impossible. The quick pace and rhythm of the story keeps on moving and turning in really unexpected ways, making the story so enthralling and making impossible for the reader to put the book aside.


---

Found this author on twitter. Decided to try his book as the synopsis sounded interesting. Definitely was happily surprised as I couldn't put the book down. Well thought out plot and engaging characters. Nice twists and turns. Anyone who is a parent would love (and hate to imagine) some of the things that go on for the main character, Tom Gray. Try it! You won't be sorry.


---

McDermott's debut thriller is a real page turner, or Kindle forward button pusher (whatever it's called), and an exciting addition to anyone's collection of ex-SAS Good Guy vs. Bad Guy Terrorist novels/ebooks.


---

They jump you right into the plot, but don't leave you dangling with no backstory. The tension builds swiftly, yet doesn't seem to fantastical to believe. There is action in this novel, but I wouldn't say this is an action story first and foremost. If you like suspense mixed with action, where the world is not in black and white, give this story a shot!




Author Bio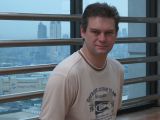 Alan lives in the south of England and is married with beautiful twin daughters. When he's not creating clinical software for the NHS he writes short stories for his daughters and thrillers for everyone else. In his spare time he wishes he had more spare time...
Connect with the author online