"Outrageous (in a kick butt way)" Divorced Girl Smiling by @divorcedgirljp #romance
---
By tweeting this post, you can earn promotional tweets from me as part of the Amazon Tweet Exchange.
Details
here
.
---


Cover links to Amazon.com
Divorced Girl Smiling
Written by Jackie Pilossoph
Genre: Contemporary Women's Fiction, Romantic Comedy



Smile! It's not just the end of your marriage, it's the beginning of your second chance!



Missy Benson has a two and a half carat diamond engagement ring with color grade H, VS2 clarity and a value of $36,000. It's absolutely gorgeous, practically flawless, and let's be honest, really big!

But what the successful Chicago realtor doesn't have anymore is a husband. After 12 years of marriage, her husband, Paul, a handsome, wealthy attorney has devastated her by breaking up their marriage for Priscilla Sommerfeld, a young, personal trainer, who according to Missy's sassy assistant, J.J., looks more like a Las Vegas stripper than a fitness expert.

Not sure what to do with her ring, and with no financial issues to worry about, Missy decides to put it up for sale on Craigslist. The price: 99 cents! The catch: She gets to pick the buyer. In essence, she's looking for the perfect guy, but not for herself. Her hope is to regain faith that good men do exist, and that marriages can last forever.

Now referring to herself as "the divorced girl," Missy interviews dozens of young men who are vying for the huge ring. It's a contest that includes outrageous characters, hilarious and sentimental stories, and two finalists, both of whom Missy adores and who she must choose between. Then there's Parker Missoni, the sexiest contestant by far, who drives her crazy with his brutal honesty, and at the same time stops her heart with his deep brown eyes.

Divorced Girl Smiling is the story of a woman's journey to do whatever it takes to heal herself from divorce. It's about acceptance, reflection, taking accountability for mistakes, and appreciating all of life's wonderful gifts. In other words, if you have the guts to put the past behind, admit your mistakes, embrace your future, and give love another chance, you will surely be a divorced girl smiling.


An excerpt from
Divorced Girl Smiling
.
Here's what
Fans are saying
Pilossoph has hit it out of the park once again!!!
I just finished Divorced Girl Smiling and I cannot help but sit here and smile myself. The premise of the story is outrageous (in a kick butt way), original and awesome: A wealthy recently separated woman puts her $14,000 engagement ring up on Craigslist for $.99, put the catch is that she gets to pick the buyer. In the end she is she one that gets the best deal???!
Pilossoph writes such engrossing stories about women that move me so deeply. She writes about the broken pieces of our self that need putting back together, the parts of our self we keep hidden or unavailable, she writes truth. She writes the story with the strong, honest and humorous voice I have come to love and crave.
Pilossoph writes about characters that are flawed, real and, at the heart, dreamers. Who doesn't love to root for the broken soul whose adventure introduces you to interesting characters. These characters become friends, who you grow to love. You feel privileged to watch each of their personal transformations. You become so moved that these characters can move you to tears.
Divorced Girl Smiling has all the best components of what a great story is made of. What an journey Divorced Girl Smiling is. I learned so much about myself while reading this book. It is such a gift that Pilossoph shared this beautiful story with all of us. She is the voice for divorced girls everywhere and for mothers, sisters, wives, friends and daughters. I just adored this book for so many reasons. It has everything an amazing book should...5 stars!
This book made me laugh and cry (in a good way)! I love the way the author weaves happiness into a difficult situation. Let's face it, divorce is not a pleasant subject or experience, but it is something that so many people are going through these days and its wonderfully refreshing to have a happy book to read - as opposed to one about a bitter woman.

The characters in this book are so sweet that I wanted to hug them all (yes - even the ex-husband). The premise is great and the lessons learned are really insightful without being "preachy".

Its a great gift for anyone you know going through a divorce - man or woman. Write on Ms. Pilossoph I can't wait to read more or your books!


Author Bio
Jackie Pilossoph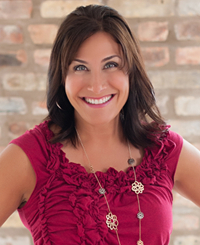 Jackie Pilossoph is the author of her divorce novel, DIVORCED GIRL SMILING, as well as her divorce novel, FREE GIFT WITH PURCHASE (published in 2012) and romantic comedies, JACKPOT! (published in 2011) and HOOK, LINE AND SINK HIM (published in 2010).
Pilossoph is the creator of her divorce blog, DIVORCED GIRL SMILING (
www.divorcedgirlsmiling.com
), an inspirational, smart and funny site that aims to help men and women through divorce. Successful from the very beginning, the blog has led Pilossoph to a spot as a regular Huffington Post divorce blogger, as well as to television appearances on many news shows, including the Steve Harvey show.
Pilossoph, who holds a Masters degree in communication from Boston University is also a business features reporter and weekly columnist for Sun-Times Media local publications. She lives with her family in Chicago. Oh, and she's divorced!