11 books are being given away in our Scavenger Hunt this month. Play today!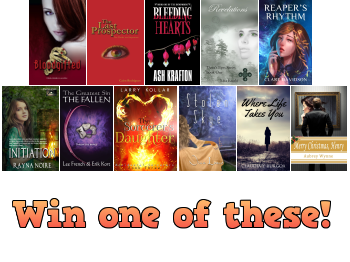 Would you like to win one of these? Play our Scavenger Hunt, and you will get your chance. In addition to the 11 books pictured above, there's 8 other books for you to discover. (2 others featured in the Scavenger Hunt and 6 others in
Cover Wars
)
Speaking of Cover Wars, I encourage you to vote for your favorite cover each day. The winning cover will be featured again in March. Vote
HERE
.
Lots of ways to win
Here's all the ways to win:
FREE entry — simply provide your email address should you win a book.
Pick your first and second choice prize — which books would you like to win the most?

Can't promise you'll win the book you want, but we are gathering this info so that we can try.

Answer a question about each of the participating books.
Answer a question from each of the participating authors.
Follow the participating authors on Twitter.
Like the Facebook pages of the participating authors.
Vote for your favorite book cover each day in Cover Wars

Must fill out the corresponding Scavenger Hunt option each day.

Tweet about this giveaway. (2 daily tweet options)
Link to this giveaway in a Facebook status update. (daily option)
Follow the Masquerade Crew on Pinterest.
Pin an image to Pinterest.
Become a member of the Masquerade Crew Book Club (or already be a member).
Blog about this giveaway.
Leave a blog post comment.
Answer a question about our promotion options.
Books being given away
Caught between an impossible past and dangerous future, a forgotten love refuses to die...
It's been years since the car accident, but with every disappointment Evelyn finds herself wondering about her forgotten days in London. After being dismissed from her job, she unknowingly wanders past an old friend who reintroduces himself by breaking into her home.
Armed with a photograph and a handful of gems, he convinces her that after dropping out of her study abroad program, she befriended a group of accomplished thieves. Drawn to the handsome stranger in her living room and seduced by the idea of finally knowing the truth, Evelyn travels to London to face her past and understand what could've caused her to make such uncharacteristic life choices.
As conflicting memories surface, Evelyn fights her attraction to the Irish rogue, Finn, while sparring with the intimidating group leader, Ari. There's the added problem of forgetting where she's stashed a small fortune. Realizing too late that darker forces are closing in on her, Evelyn fights to save herself and the lives of those she's grown to care for.
---
When everyone thinks your sister committed suicide, it's hard to prove she was murdered.
Kim is unable to accept Charley's sudden death. Crippled by an unnatural amnesia, her questions are met with wall after wall. As she doubts her sanity, she realises her investigation is putting those around her in danger.
The only person who seems to know anything is Matthew, an elusive stranger who would rather vanish than talk. Despite his friendly smile, Kim isn't sure she can trust him. But if she wants to protect her family from further danger, Kim must work with Matthew to discover how Charley died – before it's too late.
---
For hundreds of years, the Blaukenev clan has wandered across Tilzam, from one end to the other and back. Each wagon carries history, love, laughter, pain, sorrow, and secrets. Their greatest secret of all may be Chavali, the clan Seer.
With her gift/curse, nothing surprises her anymore, no one keeps secrets from her. She, on the other hand, has more than enough secrets to keep. Secrets of her own, secrets of her clan, secrets of the world, secrets she even keeps from herself.
There are always people who want secrets.
Some will do anything to get what they want.
The Fallen is the foundation of the story of The Greatest Sin, of a world adrift from its God that desperately wants Her back. Chavali's comfortable, predictable life will be ripped apart and burnt to ashes as she's forced into the middle of that struggle. Change, she hates it passionately. It hates her right back.
---
What's a girl to do when she learns she's descended from a vampire? Being unable to age is only the beginning…
Laura Dantonville is a Primary school teacher with one wish—to marry her boyfriend, Detective Matt Sommers. When her aunt Judy reveals a frightening family secret that explains her rare genetic mutation, it threatens to propel her into a dark underworld where her true family waits.
Laura's future with Matt hangs in the balance.
Alec Munro never wanted to become guardian to a Dantonville regardless that her blood is coveted by his vampire-kind. But his sire, Lucien Lebrettan, gave him no choice. Now he's faced with not only protecting the girl, but fathering a child with her in order to end his servitude—and a centuries-old curse.
---
"A meet-cute at an Egyptian antiquities exhibit draws self-confessed bleeding-heart advice columnist Sophie Galen into the orbit of Marek Thurzo, a moody mystery man with "Paul Newman lips" and an intense interest in Sophie from the moment they meet.
"In short order, Marek introduces Sophie to a secret underworld of vampires, werewolves, and demivampires--his own kind, vampire precursors who can still walk in daylight and have not yet lost their souls. Sophie herself has a destiny among "the DV," as she learns to her considerable peril." - Publishers Weekly
---
Solstice is a world apart, created by a mysterious Boss and shaped by tempers of warring twin goddesses. Once it was a playground for sisters Ylumya and Ynoirya, but then the wars began. Now Solstice is the stage for the final battle between light and dark. Everyone must choose a side.
The Boss sired the first Prospector 1,000 years ago. Charged to search for a treasure unnamed, an unbroken line of men have been caretakers, shepherds and warriors for Solstice since the misty times. Now, Grayme Ceruleya is the last Prospector, he is destined to find the treasure. But what happens to Solstice when he does?
A runaway slave dies giving birth alone in the desert. The nomads who find the baby don't realize that the child is the pawn of the gods and wields more power than they can comprehend. Except for one boy, broken-hearted Tonyo who makes a tremendous sacrifice to ensure the baby's safety.
In Solstice the unlikely is probable, magicks are mundane and all the stories are true. It's a land of stunning natural beauty, filled with exotic wildlife and vibrant cultures. Powerful factions like the whore's guild make the rules, ancient enemies find new strength and dreamers are waking up all across the land with one message.
The Final war between the Twins has started. A victor must be decided this time.
---
BECCA TRENT LIVED HER CHILDHOOD NEXT TO A CRUEL WOMAN—her mom—who lived to torment and neglect her. During her high school years, her mother married; bringing home not only a new husband, but a step sister her same age. The latter took over her Mom's role—making Becca's life miserable. Including stealing Ian—Becca's best friend and boyfriend—Lisa treated her worse than her mother had for the previous fifteen years. A couple years later, thing ended up in tragedy.
Becca buried that part of her life in the deep corners of her psyche, caught between sanity and nightmares. Between therapy, work and her constantly looming past she can't seem to find room to breathe. The memories of her late step-sister, Lisa, are her closest company.
Her best friend, Dan gives her that family love she always lacked. Everything was close to perfect, until everything and everyone from her past came back. Now she's trying to figure out how to survive and keep that bond which seems now to be held together by a thread.
---
Henry, a shy and talented artist, moonlights as a security guard at a museum and loses his heart to a beautiful, melancholy woman in a painting. As his obsession grows, he finds a kindred soul who helps him in his search for happiness. On Christmas Eve, Henry dares to take a chance on love and fulfill his dream.
---
As Bailar and his apprentices help the Conclave prepare for conflict with the rogue sorcerers, Sura learns that she is a descendant of a noble House in the Alliance. But when she discovers the price of her history, it may be too late.
---
Elizabeth Monterey is a 17-years-old girl who always had everything: lots of money, friends, the perfect boyfriend, and a promising future on the archery world. But an inexplicable accident changed her life forever, and now she needs to face the harsh reality of the death of her parents, a brother in a coma and the loss of her fortune.
As if she hadn't problems enough, demonic-looking creatures want the freedom to come and go to the human world, and Elizabeth is the chosen to prevent this from happening, but she can't do it alone. It will be necessary to find out who are her allies... and her enemies.
So, the hunt begins.
---
The Pagan Eyes series introduces the Carpenter family whose members face personal issues, along with time travel, danger, and death.
Initiation is Leah's story.
Leah Carpenter thought being the only witch in her local high school was hard. That was until she inexplicably found herself in the past running from an angry mob, which turned out to be much harder. Growing up comes fast as she wrestles with surviving in another century and mistaken identity. Fast thinking, luck, and whole lot of magick might get her out of her current dilemma; then again, it might not.
Play the HUNT!
Get the Rafflecopter code HERE.

a Rafflecopter giveaway