Why randomizing the winners for the Scavenger Hunt isn't feasible.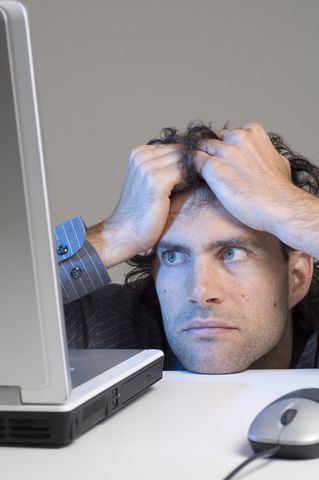 Though my wife (Sarah) was the one doing the work, the above picture demonstrates pretty accurately how I felt about the situation.
We didn't look at the time exactly, but my guess is that it took us—mostly her—four hours to pick winners for last month's Scavenger Hunt Giveaway.
Some of it was indeed a learning curve, and even if we didn't change anything major, the processing time could still be great, though I hope we could shave it down to an hour or so.
But the processing time wasn't the only problem.
In an attempt to be fair, Sarah used Rafflecopter's random generator to pick winners, then assign their first choice prize. When first choice prizes were not available, she used the secondary list. Then at the end, a few people ended up getting whatever was left.
So what was the problem?
Everyone who played last month will end up getting a book, many of them from among the ones they chose to win.
Doesn't sound like a problem, right?
Except it takes away a sense of risk and reward. Do that enough times and it would cause the Scavenger Hunt to cave in on itself.
"I don't have to play the hunt," someone might say. "I just have to put in one entry, and I'll win something."
It's not meant to be an open-ended giveaway.
So, starting with the current hunt, we will put heavier emphasis on those who play more than the rest. There will still be a few random winners, so people who only enter one time might still win, but we aren't going to spend a great amount of time making sure everyone gets something.
After we process the ones who rack up the most score, giving them the books they wanted to win, both first and second choice where available, we'll pick a few random winners to get what's left. If a few of these people win the book they want, so be it—but that'll be completely random.
How do you rack up score?
That's easy. Play the hunt. Follow all the authors, like their Facebook pages. In other words, whatever the Rafflecopter widget has available, do it. Certain options like the tweet and Facebook status can be done daily, so come back and support us.
If I notice more are playing, vying for those top positions, I'll add more options.
Remember, there's not just ebooks available. There's paperbacks. Those will go to the top players, though shipping preferences of the authors will play a role as well.
And even with the ebooks, unless you want to ask the authors themselves for a copy in exchange for a review, winning one is the only way to get it without paying for it. And although a review would be nice, it isn't strictly required.
Support us. Play our hunt every month, and you could get a steady stream of books, hopefully ones you would have picked up yourself if given the opportunity.
And there's another reason to support us.
If more and more people play the hunt, then this campaign will become more attractive to prospective authors. If more authors sign up, more books will be available.
So, if you haven't played the hunt this month, you may do so HERE.