"Marvel or Comic-Con" fan? Check out The Five of Us: The Beginnings by @FiveOfUsBook


Cover links to Amazon.com


The Five of Us
Book 1: The Beginnings
Written by Sean Conway
Genre: Sci-Fi Fantasy, Mystery



Five teenagers from the rough streets of Brooklyn, New York discover a mysterious new power. Each of them wants to learn where the new power came from while being hunted by the NYPD, gangs throughout New York, and Secret Agencies.

In each journey they will battle with street thugs, soldiers of fortune, different array of monsters and themselves. Each will learn the value of decision-making and how each choice made affects everyone around them.

Richard The Thinker
Richard who is the smartest in the school uses his new telekinesis, and mind reading powers to find out what happen to his mother who went missing a year ago.

Marcus The Tank
Marcus a down south native who loves football is trying to fit in to his new surrounding. He discovers a power which makes him virtually unbeatable since his new power gives him a various amount of ways to be offensive and defensive

Jacob The Blender
Jacob an on again off again criminal uses his new power to plan a bank heist

Will The Cloner
Will is a rich kid gone broke and now needs try to fit in. With no friends he uses his new cloner ability to fit in but is getting him into more trouble then he anticipated.

Terrence The Flyer
Terrence is the jock, ladies man, best friend of Richard, and hates Will's guts. One of the few who makes Will feel out of place. Terrence's new power of flight, strength and healing is not only put to use while he's on the basketball court but opens his eyes on how to express his feelings.


An excerpt from
The Five of Us
Book 1: The Beginnings
.
Here's what
a fan said
If your into anything Marvel or Comic-Con this is something your should look into.
— B&N anonymous
Author Bio
Sean Conway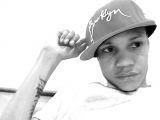 I'm Brookyn, New York native who likes to write stories in my free time. My Full time job is User Support Specialist for one of the biggest law firms in the country. I like to play video games, listen to music and travel. My latest overseas trip was Hong Kong where I notice that the book culture especially in anime was very large.
This is the reason I started my first book series Five Of Us which will be book-based first and then I can eventually put it in comic book form. A lot of people tell me I should of been a comedian since I can make silly comments and stories on the fly so when my wife read a few of my stories she told me to finish them all so that's what I'm doing.