"A wonderful window into the period." War's Last Dance by @BeingJules #historical
---
By tweeting this post, you can earn promotional tweets from me as part of the Amazon Tweet Exchange.
Details
here
.
---


Cover links to Amazon.com


War's Last Dance
Written by Julia Underwood
Genre: Historical Fiction, War



Berlin, 1946. The war is over. But there are still battles to be won before the players can pack up and go home.

After five years apart Bill and Isabel are re-united in a devastated Berlin. Struggling to find a place for herself in the war-torn city, Isabel doesn't find it easy to fall back into a family routine with Bill.

As they struggle to rediscover their love for each other they encounter unexpected dangers. Their four-year old daughter is mysteriously abducted, disappearing without a trace. No one knows where she has gone. Or why she has disappeared.

Isabel must drawn on hidden strengths and loyalties as she throws herself into a desperate search for her daughter.

Will she manage to bring her family back together before it is too late? Or will Isabel have to build a new life for herself - rising like a phoenix out of the ashes of war?

War's Last Dance' is a compelling drama of marriage, family and war. It is perfect for fans of Sebastian Faulks and William Boyd.

"Sweeping, touching, and a wonderful window into the period." - Richard Foreman, best-selling author of 'A Hero Of Our Time.'

Endeavour Press is the UK's leading independent publisher of digital books.
An excerpt from
War's Last Dance
.
Here's what
Fans are saying
"War's Last Dance" is the captivating debut novel by the highly talented Julia Underwood. Her beautifully descriptive prose cleverly combines the simplicity of a charming love story with the complexity of War, corruption, politics, kidnap, relationships, poverty and despair.

The author manages to engage the reader from start to finish, such that one is transported both in time and space to watch events unfold first-hand.

The book is tremendously well-researched, Underwood's vivid descriptions and exquisite detail make this novel both captivating and fascinating.

Underwood's moving narrative takes the reader on a journey through the abject poverty and suffering of the German people, whose city has been destroyed by war, intertwined with the lives of the Allied forces who work there, struggling on war rations in a faraway place. Crime and corruption are inevitable, and Underwood cleverly entangles this within the story.

War's Last Dance not only covers the romantic story behind the main character, Isabel, it also chronicles the devastation left behind in Berlin after the end of the Second World War.
Many people don't stop and think about what life was like in Germany after 1945, but the destruction was far from over by the war's end. Julia Underwood powerfully describes the total devastation in Berlin - Isabel is shocked by the utter ruin of the city - mountains of rubble, thousands of displaced refugees, starving and dying of diseases.
War's Last Dance narrates an important point in history and is well worth reading if you are interested in the after-effects of the Second World War.
Author Bio
Julia Underwood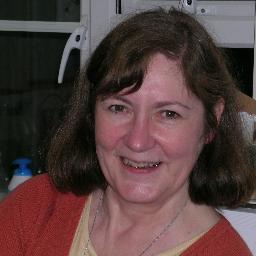 I have been writing for many years. At boarding school in the English countryside I took liberties with published work, adapting it into plays for my classmates to perform. In the dormitory at night I related an ongoing saga of terror and mayhem.
My father was an Intelligence Officer in the British Army and after World War 2 we lived in Germany. I have also lived in Jamaica and France.
I worked as a Medical Research scientist. Running a pub and restaurant proved more stressful. Later, for many years I was an interior designer and also made soft furnishings.
I write fiction: short stories, plays and I have written two novels. Some of my short stories and articles have been published in magazines and some have been short listed in competitions.
My obsessions are writing, cats, films, cooking and dolls' house furnishings.