Historical Western Romance Series: Wild Texas Nights by @AdriennedeWolfe
Fancy Holleday has more nerve than the average cardsharp. No man can resist her smoky voice and violet eyes—and that includes the federal tinstar, Cord Rawlins.
Wild
Texas
Nights
Series
by
Adrienne
deWolfe
Follow @AdriennedeWolfe
Book Covers
Link to Amazon
Texas Outlaw
Texas Lover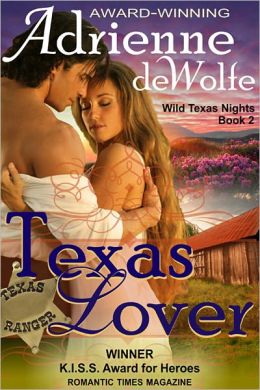 Texas Wildcat
Cord may have tracked her all the way to Texas to recover the U.S. minting plates that she stole, but the Nevada penitentiary is a long ride north, giving her plenty of time to charm, seduce, or just plain outsmart the handsome Texas lawman.
Deputy U.S. Marshal Cord Rawlins is sworn to bring renegades to justice—including the brazen lady train robber who turned the tables on him near Carson City.
Tracking Fancy down is Cord's job, but resisting her persistent persuasions is a matter of personal honor. With Fancy's life in his hands, Cord begins to wonder if his clever prisoner is really as shameless as she pretends. Could her wicked smile be hiding a desperate secret—one that can steal his heart?
Texas Ranger Wes Rawlins has a heap of trouble on his hands. The county sheriff has been murdered, squatters are entrenched on the dead man's land, and no one can tell Wes why the sheriff wired for help in the first place.
So Wes rides out to the sheriff's farm—and finds himself looking down a gun barrel aimed by Aurora Sinclair, a spirited, young divorcée with a house full of orphans to protect.
Is Aurora an innocent schoolmarm battling an illegal land grab? Or is she a cunning temptress who plugged her lawman-lover to seize his sprawling homestead?
In this high-stakes game of cat and mouse, Wes dare not lose his head. The trouble is, he may have already lost his heart...
When the beautiful, hot-tempered Bailey McShane bursts into the cattlemen's saloon, waving her shotgun and accusing the cowboys of theft, simmering tempers start to boil.
Bailey wants restitution for the fence posts that some low-down cowpokes burned to steal precious water from her land.
No self-respecting cattleman would be caught dead siding with a sheep rancher, like Bailey—and yet Zack Rawlins, the youngest, elected president of the Cattlemen's Association, can't resist this pint-sized wildcat with the big blue eyes. With drought-stricken Bandera County on the brink of range war, Zack faces political suicide if he can't find a way to mend fences between Bailey and his cattle-ranching neighbors.
But what's a cowboy to do with an unpredictable woman who refuses to be tamed?
Author Bio and Links
Adrienne deWolfe is a #1 bestselling novelist, journalist, publicist, and fiction teacher, who calls Austin, Texas, home.
The recipient of 48 writing awards, including the Best Historical Romance of the Year, Adrienne loves to mentor aspiring authors by providing story critiques. Her non-fiction e-titles include How to Write Wildly Popular Romances, How to Write Romance Heroes with Sex Appeal, and How to Write Sensual Love Scenes. Her bestselling western historical Romance novels include the Wild Texas Nights trilogy, which is now available in e-book format.
When Adrienne isn't writing books, she is blogging at WritingNovelsThatSell.com, where aspiring authors find lots of tips, inspiration, writing resources, professional story critiques, and online writing workshops and courses.
You can follow Adrienne at:
Twitter
Facebook
GoodReads
Google Plus