Authors, showcase your descriptive POWER. #Free book ad for qualifying entries.
The following promotion offer is old. Use the "Advertise Your Book" link on the menu to access the most recent info.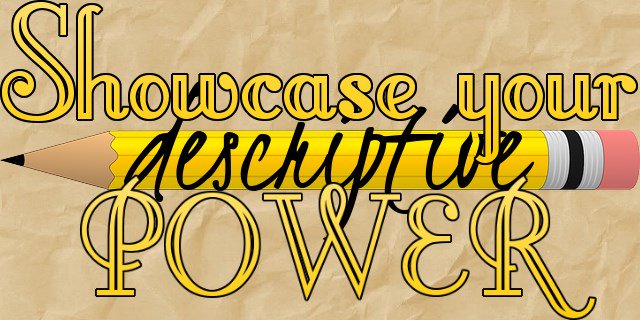 All right, writing masters, let's see who has the chops for description.
Your mission, should you accept the challenge, is to describe one of the following:
Fight sequence
Love making (please not X-rated)
A beautiful landscape
A female heroine
A male hero
An evil antagonist
An antagonist who isn't so evil
A protagonist who has a dark side
A protagonist no one understands
Something of your choosing (specify)
Let's shoot for at least 50 words but no more than 150, an average of 100 words being ideal. Everyone who has a passingly decent descriptive paragraph will get highlighted on the site with a free book ad included in the post (cover and title linking to Amazon).
I'm not sure exactly how I will do this next part. It may depend on how many entries come in. In any case, one entry will be deemed the winner, and that author will get a full-fledged promo on the site, currently worth $25.
If you write some description of your own theme, please be specific but concise. Random pieces of description probably won't be chosen as a final winner.
Also, please make your description generic. It shouldn't just be an excerpt from your novel. Please take a minute or two and write something original. If it's obviously not original, I may not even highlight it. The final decision will be mine and mine alone.