Writers, would you like us to post a sneak peek or sample of your novel on our site?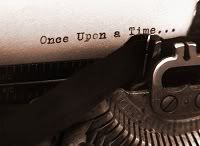 I had thought about using this image of the typewriter yesterday for my call out for short stories. It certainly would have fit, but then I found the red shorts—those fit better. In any case...
My eventual goal is to do something promotional for authors or aspiring authors each day of the week. This post is about what I'm going to do on Sundays and Tuesdays. For Sundays I want to promote someone's published novel by posting an excerpt of their book. Sample Sunday, in other words. Of course, I'll link to the book on Amazon and include whatever else the author wants (within reason).
Authors we have reviewed get first choice for Sample Sunday. In fact, I already have a few lined up. Depending on my schedule in general, I may post more than one sample per Sunday, but even with that, there's already a growing waiting list. I will soon reveal how ones can skip ahead with donations.
For Tuesdays I want to promote someone's novel that isn't out yet ... but soon will be. This could be like a shout out with a synopsis and maybe a small excerpt and a link to preorder the book on Amazon. It could also be a cover reveal—think of it as Teaser Tuesday. In this case, I would like the novel to be almost ready, perhaps in the final stages of editing. I'll give preference to those that are ready to be pre-ordered. I may do more than one book as I've done with the Amazon Shout Outs.
The entire promotional week tentatively looks like this:
Monday—Amazon Shout Out
Teaser Tuesday
Wednesday—Book Trailer (Watch it Wednesday)
Thursday—Featured Follower
Friday—I have a few pending ideas; not ready yet.
Saturday Shorts
Sample Sunday
There are forms for the Amazon Shout Outs, Book Trailer Promotions, and Featured Followers. Please use the forms if you wish to sign up for those. As stated in the other post about Saturday Shorts, you may send me an email with the subject of
Saturday Short
to get in line for that. The same is true for
Sample Sunday
and
Teaser Tuesday
—use those subjects to sign up for each. Please: one email per sign up. If you have two samples, for example, it would help me to have two emails. Bear with me as I continually try to improve my organization. I may switch to Google Forms for all of these days should I prove unable to keep up. I'll give it a shot this way first.
As is true for Saturday Shorts, please include all of the following in
each
email sent (I do not have a master database of author information, and I don't want to search for stuff if I don't have to):
Name
Twitter Handle (ex: @MasqCrew)
Website URL
Obviously, if you are signing up for Sample Sunday, please include the sample itself. Also, any other information you would like to include is welcome. I'll post all that is appropriate for the post in question.