Would you like to make a few bucks blogging for us?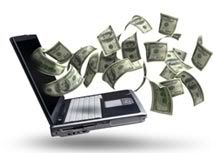 Let me start by saying that this isn't a get rich quick scheme. Let me also clarify that this doesn't involve making a lot of money. However, should you be a good fit, it should be an easy way to make a few bucks.
Since our traffic is up, we're opening the floodgates of advertising. We're offering ad space in various areas, Twitter marketing packages, and sponsored posts of two different kinds. The two kinds of posts are
Novel Bits
and
Upgraded Amazon Shout Outs
. The option to add a blog tour will be available for both kinds. That's where you come in.
Qualifications
Though I'm not going to require you have a book review blog, having an appropriate fanbase will be a consideration. Would your fans appreciate posts about books? If so, then you would likely qualify.
The other semi qualification is traffic. I'm not going to impose a minimum traffic level; however, if your traffic isn't high enough or at least comparable to the others who join the tours, you won't make very much money at all. Because here's how it's going to work:
80% of what I charge my client will be divided among the blog tour participants.
The share for each blog tour participant will be based upon traffic percentage.
Scenario A: 4 blogs all have the same traffic. $5 fee charged. I keep $1, and each of the other blogs get $1.
Scenario B: Same as before except one blog has half the traffic. That blog would get 57¢ and the others would get $1.14 each.
Scenario C: This time the low traffic blog has a tenth of the traffic. This time that blog would get 13¢ and the others would get $1.29 each.
If you have low traffic or don't know what your traffic is, but you are interested in helping out, sign up anyway. If your traffic is indeed low, I'd be happy to help out where I can. Together we might be able to increase the number of blog readers.
It'll be easy, I promise
"But I don't have time to write more!"
If you're thinking this, don't! Guest posting for our blog tours is not difficult at all. For the most part it should be a copy and paste situation. You might need to spend a few minutes making sure it looks good on your site, but I'll give you all the wording. The truly hard part will be with the author. They will have to come up with all the material.
And also, I wouldn't worry about duplicate content. This isn't 5 years ago when sites were penalized for having the same text as another site. Google recognizes that content—good content—is shared all the time, and the sharing is actually a sign that it's both popular and worth reading.
However, it will be my goal to offer a little variety for blog tour readers, so not every participating site will have the exact same content.
How much traffic do I have?
There are two sources of traffic stats that I will take into account:
Alexa.com
and
StatCounter.com
. Alexa's stats for your site can be checked right now. You do, however, need to sign up for StatCounter. But yes, they do have a free version. Put some code on your site and in a few hours you'll see your traffic right before your eyes.
Unfortunately, I won't be able to use your traffic stats if you keep track of it some other way. I will need all blog tour participants using the same service so that the numbers are the same across the board. I've been using StatCounter since the beginning of the year. I love it!
If you need any help setting up StatCounter, just let me know. I'm not a computer expert, but I may be able to help.
How will I be paid?
I will pay you via Amazon Gift Cards. Once you accrue so much (say ... $10), I'll send you a gift card through your email. If you are in the States, you should be able to get the entire amount. I have never sent a gift card internationally, so there may be a conversion fee, which would come out of your portion. In that case, it might be better to let the amount accrue a little more before requesting your gift card.
Though it isn't required, I do encourage you to get to Amazon through one of our links. Whatever you buy, whether it's one of the products we recommend or not, will earn us a small commission. In fact, if you let me know what you are going to buy, I'd be happy to provide you a link or blog about it if appropriate. Right now everything we make goes to help Indie Authors, so in a way you would be helping them too.
According to how I am organizing it right now, when I'm fully booked, there is a chance four blog tours will take place every week (though it is kinda unlikely). You are more than welcome to participate in all of the ones you are invited to or pick and choose. However, there will be a minimum total traffic figure that I will want to meet (haven't figured out the number yet), so I encourage you to participate in as many as you can. Because of that, I encourage all who are even slightly interested to sign up. We'll need all the help we can get.
If you would like to sign up for our blog tour participant pool, fill out the form below. If you have any questions, you may email me.
msl_007 {A} live {DOT} com