N is for New Eyes aka @lrlee, recom'd by @MarianAllen #atozchallenge
N is for
New Eyes
Leslie R. Lee
Follow @lrlee
Recommended by Marian Allen
Follow @MarianAllen
Why did you recommend this author?
L
eslie has "new eyes": His photography and his fiction are those of someone who sees everything with preconceptions set aside. His attitude is fresh and creative and all his own. Neither he nor his work can be tucked into a comfortable pigeonhole. He challenges his viewers, readers, and friends to THINK, and he does so casually, just as part of being himself.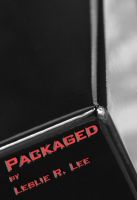 Cover links to Smashwords


Why do you recommend this book?
A
brilliant book, PACKAGED begins as a normal morning for a normal woman. Odd things begin to happen. Things get odder and odder and, like Alice down the rabbit hole, the characters and the reader become helplessly entangled in a reality that's more like a dream. The story follows flawless dream logic and, just when you think it MUST go out of control -- it doesn't. PACKAGED is an absolutely masterful exercise in imagination harnessed to authorial control.
Links
About Leslie R. Lee
Facebook
About Marian Allen
Website
Facebook