King Biscuit by @moonpie125 - Transport yourself to 1966.
Buffer
King Biscuit
By Michael Loyd Gray

Follow @moonpie125

Michael will be awarding a $25.00 Amazon Gift Card to a randomly drawn commenter during the tour.


Synopsis
It's 1966. The Beatles have taken over the airways, Star Trek is in its first season on NBC, and 389,000 American troops are stationed in Vietnam.
A war is going on Argus, Illinois as well, between sixteen-year-old Billy Ray Fleener and his father. While his father dreams of Billy Ray joining the family business, Billy Ray dreams of moving to California, becoming a surfer, and getting into Margie Heinrich's pants—not necessarily in that order. Instead, he gets a summer laying pipe and the dubious distinction of town hero after saving Purdy Boy, the mayor's wife's dachshund.
When his beloved uncle and role model Mitch is killed in combat, Billy Ray feels like he must leave Argus or be stuck there forever. With little more than the clothes on his back, he hops a bus for Helena, Arkansas to visit Mitch's grave. Along the way he meets up with a cast of characters as varied and polarized as America itself, from a marine captain home on leave to a band of hippies bound for Graceland. Each teaches him something about love, loyalty, and the true meaning of freedom, but what Billy Ray really learns is that everyone has the power to define who they are. He may have left Argus a boy, but he returns a man.
Excerpt
As a restless boy who sensed manhood was not so far off, Billy Ray had a plan of sorts for easing into it: he fancied going out to California to become a professional surfer. He'd get a cool name, like MoonDoggy (he knew that one was taken by somebody in the movies), or Sharkman. His current favorite was Tubular Boy and he imagined would wear baggies and surfer shirts, listen to the Beach Boys, and wax his board a lot in the company of surfer girls in bikinis. He bought Surfer magazine at the Walgreen's in downtown Argus and already knew some of the surfer lingo. His favorite surfer expression was "Cowabunga."
But the plan had one fundamental flaw: Billy Ray had no money and no car, and he was still in high school in east central Illinois. The closest thing to surf: waves of corn that shimmied and rattled when there was a breeze. California was more a state of mind, a concept or philosophy, than a reality to Billy Ray, who had nonetheless scrutinized it pretty well in an atlas at the school library.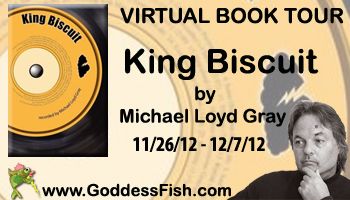 AUTHOR Bio and Links
Michael Loyd Gray was born in Jonesboro, Arkansas, but grew up in Champaign, Illinois. He earned a MFA in English from Western Michigan University and has taught at colleges and universities in upstate New York, Michigan, Illinois, Wisconsin, and Texas. He graduated from the University of Illinois with a Journalism degree and was a newspaper staff writer in Arizona and Illinois for ten years, conducting the last interview with novelist Erskine Caldwell.
He is the winner of the 2005 Alligator Juniper Fiction Prize and the 2005 The Writers Place Award for Fiction. Gray's novel Well Deserved won the 2008 Sol Books Prose Series Prize. His novel Not Famous Anymore was awarded a grant by the Elizabeth George Foundation and was released by Three Towers Press, an imprint of HenschelHaus in 2011. His novel December's Children was a finalist for the 2006 Sol Books Prose Series Prize and was released in 2012 by Tempest Books as the young adult novel King Biscuit. He has written a sequel to Well Deserved called The Last Stop, and another two novels called Blue Sparta and Fast Eddie. Recently he finished a novel entitled The Salt Meadows. A lifelong Chicago Bears and Rolling Stones fan, he lives in Kalamazoo, Michigan, and teaches as full-time online English faculty for South University, where he is one of the founding editors of the student literary journal Asynchronous and sponsor of an online readings series featuring fiction and poetry.
LINKS:
Website
Blog
Pinterest
Facebook
Amazon Author Page