We're Giving Away Copies of ORPHEUS by Dan DeWitt
Book Details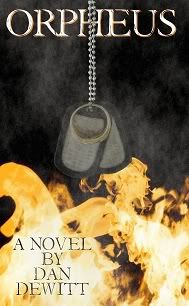 Title
: Orpheus
Author
: Dan DeWitt
Find him online:
Genre
: Horror (Zombies)
Synopsis
: Cameron Holt is fortunate enough to survive the initial outbreak that turns his New England island community into a hive of the undead. So is his son, Ethan. Now, the only thing keeping Holt going is the determination to rescue his son from the undead...or remove him permanently from their ranks. Unfortunately, zombies aren't the only thing getting in his way.
Reviews
Orpheus received two five-star reviews from
The Masquerade Crew
.
An Interview With The Author—Dan DeWitt
What's your writing background?

Nothing too exciting. I have a Bachelor's degree in English, which means next to nothing when it comes to writing fiction. Still, I took a bunch of creative writing classes and really enjoyed them. Before that, I dabbled in short stories here and there, but wasn't ready to try and make a career out of it. I wrote one screenplay in 2001 that advanced to the second round at Austin (and I'm about ¼ of the way into its novelization). I've always been a voracious reader, and I got really serious after participating in NaNoWriMo in 2006. Since then, I've published a couple of short stories in e-zines and one non-fiction profile in a local magazine. But I'm really just a guy who loves to read fiction and tell a story from time to time.
To read more of this interview, click
here
.
Win a copy of Orpheus